Once More with Feeling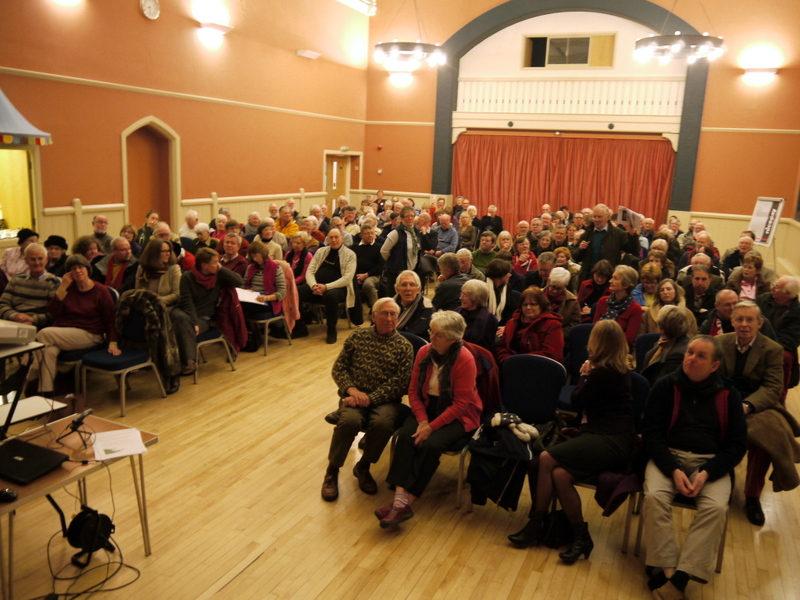 A special meeting about climate change and what we can do about it
Alton Assembly Rooms, Wednesday 16th January 2013, 7.30pm
"I believe we can find a solution. But we won't do it if we listen to siren voices who deny that there is a problem. We haven't got the fifty years it took to silence the organised denial of the link between smoking and disease.
I like to think that awareness of the need for action to avert climate catastrophe is building up like a super-saturated solution in a science demonstration. Just waiting for a few tiny crystals to drop in and start a chain reaction - a spreading wave of heads coming out of the sand all over the world, blind eyes popping opening, and denial suddenly becoming as utterly unacceptable as any other public advocacy of reckless irresponsibility.
Wouldn't it be wonderful if our meeting here in Alton could be one of those tiny crystals."
James' concluding words
Background:
The whole point of this meeting was to do an exact repeat of the opening address I was asked to give to an international conference of travel medicine doctors in 2006, on what turned out to be the day our youngest grandchild was born. Now that the little boy is nearly seven I wanted to make the point that nothing has changed and that we haven't got another 7 years to waste. The meeting and its publicity was entirely funded by myself and my wife and was entirely independent of any groups or organisation.
Transcripts and notes of the meeting:
The 2006 Edinburgh talk which formed the first part of the talk itself can be downloaded HERE .

The 'Bringing the story up to date' second half of the talk can be downloaded HERE This now includes live links to references and additional supporting material at the end.

Notes on the Discussion (thanks to Sonia Clark) download HERE
And - a reliable, easily understood and bang-up-to-date source of further information:
The best document to look at for absolutely up-to-date information is the draft Climate Assessment Report of the (US) Federal Advisory Committee which came out on January 11, 2013. Specifically look at Chapter 2 - An in-depth summary, which is a wonderfully clear overview with easy-to-understand language and diagrams. If you want to know about the scientific methods go to Appendix II - The Science of Climate Change. The document has contributions from over 200 of the leading research scientists from around the world. (The whole thing is huge, but its home page and index is HERE if you want it)
Thanks:
I wish to thank all the people who have given me such a wonderful flood of support, who helped me before and during the meeting, especially John Hubbard for chairing the discussion, Sue, Sonia, Chris, lots of people, and most of all Lesley my wife. And thanks to all the people who came, some of whom had already sent me long and thoughtful messages before I had even woken up the next morning, and that was 5am!
Last word:
"It sounds as if lots of people are going to Grandpa's talk.
[pause for thought]
... Alton is quite a small place isn't it. Don't we need talks in all the other towns?"
T - aged 8 -to his Mum
(In case you want to share it, the abbreviated web address for this page is http://tinyurl.com/bcd8j4w )
Friends in Low Places Home Page